PrimeTime Draft
™
RemoteView
PrimeTime Draft™ RemoteView takes your draft party to the Internet!
PrimeTime Draft™ RemoteView is a
free
digital draft board web application that works with PrimeTime Draft™ Football. It is primarily intended for league members who cannot attend your draft party, but have access to the Internet. The draft experience is nearly the same as the PrimeTime Draft™ Football application, allowing remote league members to see the entire draft board and even draft their own players!
There are
no additional charges
to use PrimeTime Draft™ RemoteView with your PrimeTime Draft™ Football license, whether you have one or several remote league members.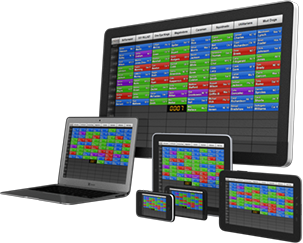 To enable PrimeTime Draft™ RemoteView for a draft, simply set the "Enable Internet services" option to "Yes" within the PrimeTime Draft™ Football application. This will generate a unique URL for the draft which should be shared with the remote league members.
The PrimeTime Draft™ RemoteView web application is compatible with most operating systems and devices with a relatively modern browser, including Apple iOS devices (such as iPad®, iPhone®, and iPod touch®) as well as most Android™ phones and tablets.


Additional notes and restrictions:
The RemoteView clock is only an approximation of the PrimeTime Draft™ Football clock.
Due to the unpredictable nature of Internet Service Providers, Hosting Providers, and the dynamic nature of the Internet, we cannot guarantee that you will be able to use the PrimeTime Draft™ RemoteView service at the time of your draft. We strongly encourage you to have a phone or alternate method of communication available as a backup.