MFL Integration
If you use MyFantasyLeague.com (MFL) as your league management website, you can download your league settings and/or upload your draft results in just a few easy steps!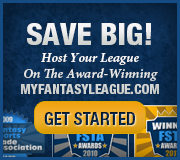 Thanks to our partnership with MyFantasyLeague, MFL is offering a $20 discount on the MFL service for new MFL customers (applies to new MyFantasyLeague customers only).
While league management websites generally make the uploading of draft results fairly easy, the PrimeTime Draft MFL Integration services can make it even easier!
To load your PrimeTime Draft™ Football draft results into
your prepared MFL league
, load the draft in PrimeTime Draft™ Football, click the "Share/Export..." button and then click the "Export to MFL" button. Enter your MFL login information in the browser window that appears and click the "Upload to MFL" button.